Skip to Content
Kitchen Remodeling Specialists
New kitchens are one of the most popular projects for homeowners who want to add value to a house, but there's much more to this than cabinets and countertops. Once you've settled on a design that you like, you'll need the help of a kitchen plumbing remodeling specialist to redirect pipes and perform fixture installation that will make your new room functional. At Hansen Plumbing Inc., we can help turn your dream cooking area into a reality.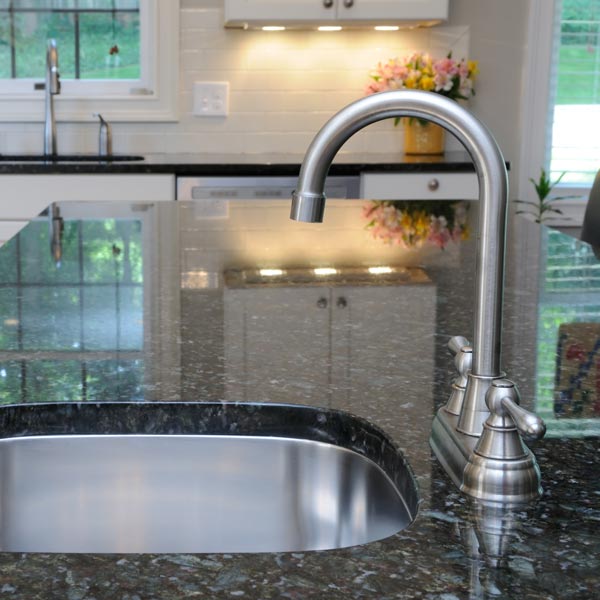 We Help You Enhance and Renovate Your Kitchen
Plumbing in your kitchen remodel goes beyond simple sinks and faucets. Hansen Plumbing has spent years assisting homeowners as they upgrade their kitchens. We understand the benefits of doing research and finding options that fulfill all your needs, including appearance, durability, and price. From your garbage disposal to the hardware that completes your desired look, there are many opportunities to add style, convenience, and even resource conservation to your new design. Below are some factors to consider when planning the fixtures and plumbing around your new kitchen:
Technology
Features like sink faucets now come with innovative technology, such as touch technology, making dishwashing more convenient at the tap of a finger.
Aesthetics
Whether your tastes lean toward a rustic country kitchen or a flashy contemporary design, you can match your desired appearance with your new sink, faucets, and other features. Find sinks in stainless steel, stone patterns, or smooth, monochromatic looks and pair them with chrome, bronze, or brushed nickel hardware.
Conservation
We can install resource-efficient fixtures that restrict water flow without sacrificing power. This and many other upgrades can help you conserve water.
Power
While we update your kitchen's plumbing features, why not upgrade your garbage disposal to a more powerful model that processes anything that falls down the drain.
Schedule Plumbing Service With Hansen Plumbing
Serving the communities of Appleton, Greenville, Neenah, Menasha, Kimberly, Kaukauna, Combined Locks, Little Chute, New London, Hortonville, Oshkosh, and the surrounding areas.